Originally published January 8, 2013, last updated February 20, 2014
Downsizing Your Life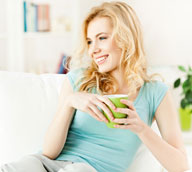 Discovering a Life of Gratitude
Downsizing means that we learn to say "no" to more-bigger-faster 24/7, and "yes" to reserving the time and space we need to think, feel and enjoy life.
So says Joan C. Webb, a Chandler, AZ life coach, speaker and author of 13 books including The Relief of Imperfection. She believes there are many practical and life-altering benefits to downsizing your life.
Relationships
Webb suggests to take the time to really listen to your spouse, kids or friends, and then reflect back to them what you hear. "To listen until we understand. It will help us be able to reduce our judgments which lead to us striving to overhelp and fix them." She also points out that in your relationship with yourself, schedule in time to relax, reflect, meditate and journal. "Take time to listen to your tiredness and ask what you need. Then make small steps to say 'no' to one commitment each time you accept a new one."
Use of time and money
Time management is actually self-management, Webb says. "Time is continuous and non-adaptable and cannot be controlled. But the good news is that we can manage and adapt ourselves. When you repeat the new behavior consistently for several weeks, you have or own a new habit." Webb also recommends when scheduling your week or compiling your to-do list, estimate how long (minutes and hours) each task will take, then add "margin time" to that estimate. "In my coaching, I've noticed that it is helpful for most people to actually double their initial time estimate. We humans tend to underestimate what we can do. Being realistic is part of downsizing."
For use of your money, Webb offers these three easy (but challenging to do) tips:
1. Limit the number of credit cards you have.
2. Use your ATM card whenever you can instead of a credit card.
3. In most cases, wait until you actually have the cash flow before buying.
The space in your home
Webb says it's best to ask for help in organizing your files, drawers and closets. Then, when you're feeling overwhelmed about the unpleasant tasks in your home, ask yourself: "Since I have to do this anyway, how can I make it easier or more fun?" Listen for your response. Then do it that way.
Finally, Webb says change is possible. "There was a time when I didn't really believe that. But I've experienced it in my own life, work and relationships. Downsizing propels me into a life of gratitude. I have more fun, laugh more and keep burnout at bay."