Originally published February 1, 2013, last updated February 20, 2014
The Grand Adventure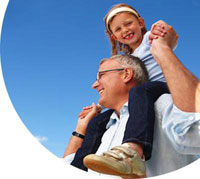 The grandkids are coming for the day, and you have nothing planned. Help! Don't let the generation gap fool you; having fun with your grandchildren is easier than you think. Here are four ideas to get you started.
1. Cook together
Whether you prepare a meal or bake up a special treat, children love to help in the kitchen. Be sure to wash little hands before you start and let them wear an apron. Even two-year-olds can stir up cookie dough. If cooking isn't your forte, use store-bought cookie dough, icing and sprinkles.
2. Plant a garden
Playing in the dirt is fun at any age. Invite your grandchildren to help plant seeds, pull weeds, and water the garden. Talk about the growing cycle as you work. If you don't have an outdoor garden, start a windowsill garden instead.
3. Create recycled art
Kids love to color, cut, and paint. Provide them with toilet paper tubes, old cereal boxes, and out-of-date magazines. Cover the table in newspaper and give them paint, markers, crayons and glue. Allow them to get creative, and see what they will produce.
4. Tell a story
Collect interesting items from your own childhood to place in a special box. When you need some down time, pull the grandchildren in your lap and tell them the stories behind your special treasures. This is a great way to pass down family anecdotes from generation to generation.
Remember, the most important thing about time with your grandchildren is being together.