Almond and Lemon Crusted Fish with Spinach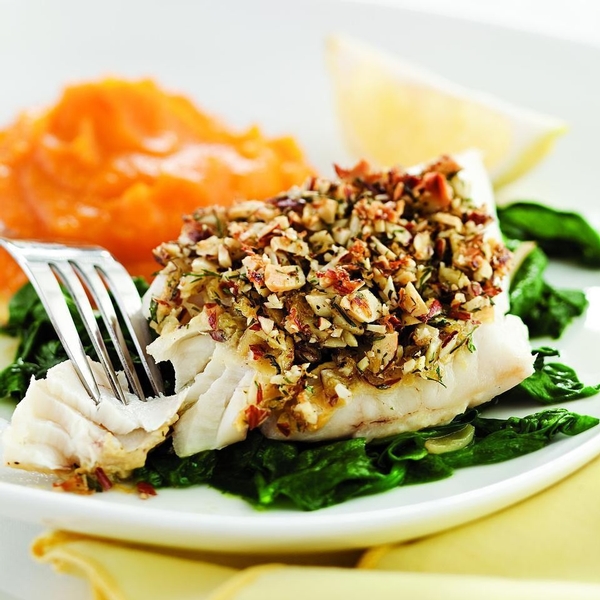 Try this elegant, foolproof way to cook mild white fish.
---
Servings: 4 servings
Preparation time: 25 minutes
Total time: 25 minutes
Ingredients:
Zest and juice of 1 lemon, divided
1/2 cup sliced almonds, coarsely chopped
1 tablespoon finely chopped fresh dill, or 1 teaspoon dried
1 tablespoon plus 2 teaspoons extra-virgin olive oil, divided
1 teaspoon kosher salt, divided
Freshly ground pepper, to taste
1 1/4 pounds Pacific cod or halibut, cut into 4 portions
4 teaspoons Dijon mustard
2 cloves garlic, slivered
1 pound baby spinach
Lemon wedges, for garnish
Preparations:
Preheat oven to 400°F. Coat a rimmed baking sheet with cooking spray.
Combine lemon zest, almonds, dill, 1 tablespoon oil, 1/2 teaspoon salt and pepper in a small bowl. Place fish on the prepared baking sheet and spread each portion with 1 teaspoon mustard. Divide the almond mixture among the portions, pressing it onto the mustard.
Bake the fish until opaque in the center, about 7 to 9 minutes, depending on thickness.
Meanwhile, heat the remaining 2 teaspoons oil in a Dutch oven over medium heat. Add garlic and cook, stirring, until fragrant but not brown, about 30 seconds. Stir in spinach, lemon juice and the remaining 1/2 teaspoon salt; season with pepper. Cook, stirring often, until the spinach is just wilted, 2 to 4 minutes. Cover to keep warm. Serve the fish with the spinach and lemon wedges, if desired.
Nutrition:
Per serving Calories: 249; Carbohydrates: 8g; Fat: 13g; Saturated Fat: 1g; Monounsaturated Fat: 8g; Protein: 28g; Cholesterol: 46mg; Dietary Fiber: 4g; Sodium: 496mg
Coating fish with nuts and baking it is an easy, foolproof way to cook it elegantly. And it is especially nice with a mild white fish like cod or halibut. The spinach turns a little yellowy because it's cooked with the acidic lemon juice, but what you lose in green color is more than made up for in great flavor.