Apple-Bacon Pancakes with Cider Syrup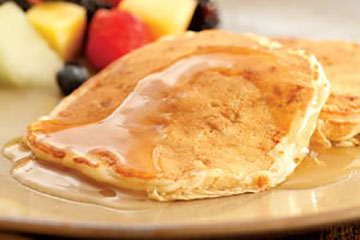 If you like apple pancakes and you like bacon, you'll love the taste of these sweet, smoky pancakes. Any kind of apple works well. A quick cider syrup drizzled on top enhances the apple flavor.
---
Servings: 4 servings, 2 pancakes & 2 tablespoons syrup each.


Preparation time: 30 minutes
Total time: 30 minutes
Ingredients:
1/2 cup apple cider
3 tablespoons packed light brown sugar , divided
1 1/2 teaspoons lemon juice
1 1/2 teaspoons cornstarch
1/2 cup whole-wheat pastry flour
1/4 cup plus 2 tablespoons all-purpose flour
1 teaspoon baking powder
1/4 teaspoon baking soda
1 large egg
1 large egg white
1/2 cup nonfat buttermilk
1 medium apple, peeled and finely diced , (about 1 cup)
4 slices bacon , cooked and crumbled
1 teaspoon canola oil , divided
Preparations:
Combine cider, 2 tablespoons brown sugar, lemon juice and cornstarch in a small saucepan. Bring to a boil over medium heat, whisking, and cook until thickened, 1 to 2 minutes. Set aside.
Whisk whole-wheat flour, all-purpose flour, baking powder, baking soda and the remaining 1 tablespoon brown sugar in a small bowl. Whisk egg, egg white and buttermilk in a large bowl. Stir in the dry ingredients, apples and bacon until just combined. (The batter will be thick.)
Brush a large nonstick skillet with 1/2 teaspoon oil and place over medium heat until hot. Cooking 4 at a time, use about 1/4 cup batter for each pancake and gently spread it to make them about 3 inches in diameter. Cook until the edges are dry and bubbles begin to form, about 2 minutes. Flip the pancakes and cook until golden brown, 1 to 2 minutes more. Repeat with the remaining oil and batter, reducing the heat as necessary to prevent burning. Reheat the cider syrup, if desired, and serve with the pancakes.
Nutrition:
Per serving Calories: 261; Carbohydrates: 42g; Fat: 6g; Saturated Fat: 2g; Monounsaturated Fat: 3g; Protein: 9g; Cholesterol: 62mg; Dietary Fiber: 2g; Sodium: 463mg