Chicken Cordon Bleu Burger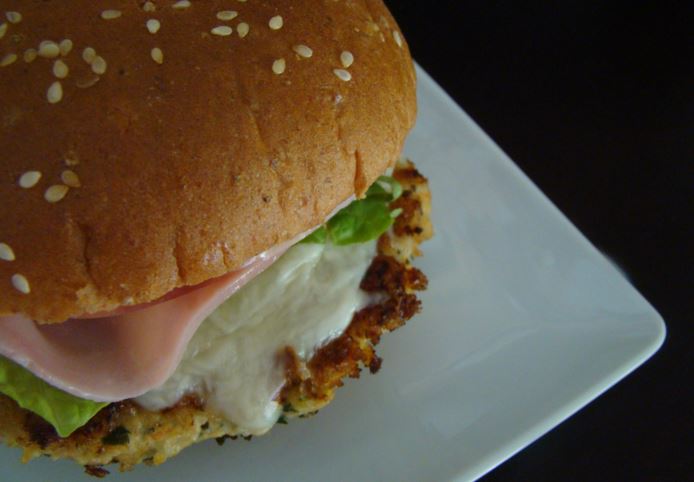 The classic flavors of Chicken Cordon Bleu — ham, Swiss cheese and thyme inspired this easy chicken burger.
---
Servings: 4 servings
Preparation time: 35 minutes
Total time: 35 minutes
We like using regular ground chicken, which is a blend of thigh and drumstick meat, to help keep this burger juicy, but feel free to use 100% ground chicken breast if you'd like a leaner burger. You'll cut 20 calories and one gram saturated fat. Serve with roasted broccoli.
Ingredients:
1/4 cup low-fat mayonnaise
1 teaspoon Dijon mustard
5 tablespoons finely chopped shallot, divided
1 1/2 teaspoons finely chopped fresh thyme, divided
1 pound ground chicken
1/3 cup finely diced ham
1/4 teaspoon salt
1/4 teaspoon freshly ground pepper
4 slices Swiss cheese
8 small slices pumpernickel bread, or 4 large slices, cut in half, toasted
12 large leaves spinach, tough stems removed
Preparations:
Preheat grill to medium-high (or see stovetop variation).
Combine mayonnaise, mustard, 1 tablespoon shallot and 1/2 teaspoon thyme in a small bowl. Set aside.
Place the remaining 4 tablespoons shallot, remaining 1 teaspoon thyme, chicken, ham, salt and pepper in a medium bowl. Gently combine without over-mixing. Form into 4 patties, about 3/4 inch thick.
Oil the grill rack (see tip). Grill the burgers, turning once, until an instant-read thermometer inserted in the center registers 165°F, 4 to 5 minutes per side. Top each burger with cheese and cook until melted, 1 to 2 minutes.
Assemble the burgers on toasted bread with the herb mayonnaise and spinach.
Nutrition:
Calories: 350; Carbohydrates: 20g; Fat: 17g; Saturated Fat: 6g; Monounsaturated Fat: 6g; Protein: 29g; Cholesterol: 119mg; Dietary Fiber: 3g; Sodium: 722mg
Tips & Notes:
To oil a grill rack, oil a folded paper towel, hold it with tongs and rub it over the rack. (Do not use cooking spray on a hot grill.) Stovetop variation: Coat a nonstick pan, preferably cast-iron (or a grill pan), with cooking spray and heat over medium-high heat for 1 to 2 minutes. Add burgers, reduce heat to medium and cook, turning once, until an instant-read thermometer registers 155°F (for pork and bison) or 165° (for beef or chicken), 4 to 5 minutes per side.