Originally published June 3, 2013, last updated August 26, 2014
Chicken Waldorf Salad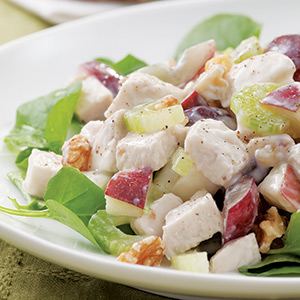 Servings: 4 servings, about 1 1/2 cups each
Preparation time: 15 minutes
Total time: 15 minutes
Leftover cooked chicken makes this chicken Waldorf salad, loaded with apples, grapes, celery and walnuts, a snap to assemble. If you use rotisserie chicken, keep in mind that it's salty and omit the salt in the dressing. Serve over watercress, with a chunk of whole-grain baguette.
Ingredients: 1/3 cup low-fat mayonnaise 1/3 cup nonfat or low-fat plain yogurt 2 teaspoons lemon juice 1/4 teaspoon salt 3 cups chopped cooked chicken breast , (see Tips) 1 medium red apple , diced 1 cup halved red or green grapes 1 cup sliced celery 1/2 cup chopped walnuts , toasted if desired (see Tips), divided
Preparations:
Whisk mayonnaise, yogurt, lemon juice and salt in a large bowl. Add chicken, apple, grapes, celery and 1/4 cup walnuts. Stir to coat well. Serve topped with the remaining 1/4 cup walnuts.
Nutrition:
Per serving Calories: 356; Carbohydrates: 23g; Fat: 16g; Saturated Fat: 2g; Monounsaturated Fat: 3g; Protein: 31g; Cholesterol: 78mg; Dietary Fiber: 3g; Sodium: 408mg
Tips & Notes: Tips: If you want cooked chicken in a hurry, the easiest way to cook it is to poach it. Place boneless, skinless chicken breasts in a skillet or saucepan. Add lightly salted water (or chicken broth) to cover and bring to a boil. Cover, reduce heat to low and simmer gently until the chicken is cooked through and no longer pink in the middle, 10 to 15 minutes. (1 pound raw boneless, skinless chicken breasts = about 2 1/2 cups chopped or shredded cooked chicken) To toast chopped, small or sliced nuts, cook in a small dry skillet over medium-low heat, stirring constantly, until fragrant and lightly browned, 2 to 4 minutes.