Cornmeal-Crusted Chicken Nuggets with Blackberry Mustard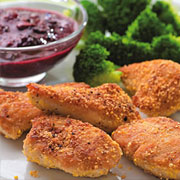 Tossing chicken tenders with cornmeal gives these chicken nuggets great crunch without deep-frying. Blackberries (or raspberries, if you prefer) combined with whole-grain mustard make for a sweet-and-savory dipping sauce.
Servings: 4 servings
Preparation time: 20 minutes
Total time: 20 minutes

Ingredients
2 tablespoons extra-virgin olive oil
1 medium eggplant , diced
1 small zucchini , finely diced
1/2 teaspoon salt
1/2 teaspoon freshly ground pepper
1/2 cup water
10 ounces baby spinach
1 1/2 cups prepared marinara sauce , preferably lower-sodium
1/2 cup chopped fresh basil
14 ounces prepared polenta , sliced lengthwise into 6 thin slices
1 1/2 cups shredded part-skim mozzarella , divided
Preparation
Mash blackberries (or raspberries), mustard and honey in a small bowl until it looks like a chunky sauce.
Sprinkle chicken tenders with salt and pepper. Place cornmeal in a medium bowl, add the chicken and toss to coat (discard any leftover cornmeal).
Heat oil in a large nonstick skillet over medium-high heat. Reduce heat to medium and cook the chicken, turning once or twice, until browned and just cooked through, 6 to 8 minutes total (thinner nuggets will cook faster than thicker ones). Serve the chicken nuggets with the berry mustard.
Nutrition
Per serving:Calories: 184; Carbohydrates: 9g; Fat: 5g; Saturated Fat: 1g; Monounsaturated Fat: 3g; Protein: 26g; Cholesterol: 67mg; Dietary Fiber: 2g; Sodium: 452mg;
Tips & Notes: Tip: Chicken tenders are the lean strips of rib meat typically found attached to the underside of chicken breasts. They can also be purchased separately. Four 1-ounce tenders will yield a 3-ounce cooked portion. Tenders are perfect for quick stir-fries, chicken satay or kid-friendly breaded "chicken nuggets."