Originally published December 31, 2013, last updated August 26, 2014
Devilish Egg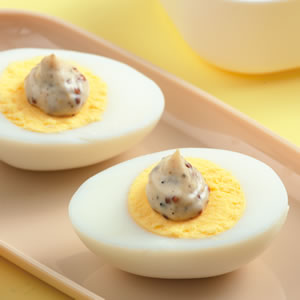 Servings: 1 serving
Preparation time: 5 minutes
Total time: 5 minutes (not including hard-boiling egg)
A hard-boiled egg is a protein-packed snack on its own—give it a little more pizzazz with a bit of mayo and mustard on top.
Ingredients: 1 teaspoon low-fat mayonnaise 1/4 teaspoon whole-grain mustard Pinch of salt Pinch of freshly ground pepper 1 large hard-boiled egg , (see Tip), peeled
Preparations:
Combine mayonnaise, mustard, salt and pepper in a small bowl. Cut egg in half and dollop the mayonnaise mixture on top.
Nutrition:
Per serving Calories: 91; Carbohydrates: 2g; Fat: 6g; Saturated Fat: 2g; Monounsaturated Fat: 2g; Protein: 6g; Cholesterol: 213mg; Dietary Fiber: 0g; Sodium: 414mg
Tips & Notes:
To hard-boil eggs: Place eggs in a single layer in a saucepan; cover with water. Bring to a simmer over medium-high heat. Reduce heat to low and cook at the barest simmer for 10 minutes. Remove from heat, pour out hot water and cover the eggs with ice-cold water. Let stand until cool enough to handle before peeling.