Indian-Spiced Chicken & Asparagus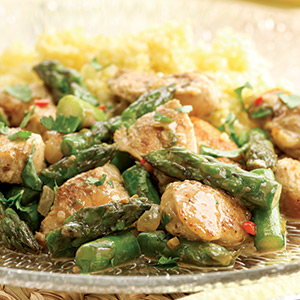 This easy chicken-and-asparagus sauté is boldly seasoned with aromatic cumin and fennel; the seeds are toasted in a skillet before grinding to bring out the most flavor. If you don't want to buy a whole jar of the spices, look for them in the bulk spice section in natural-foods stores and buy just what you need for this recipe. Serve over brown rice, millet or quinoa.
---
Servings: 4 servings, about 1 cup each


Preparation time: 40 minutes
Total time: 40 minutes
Ingredients:
1 1/2 teaspoons cumin seeds

1 1/2 teaspoons fennel seeds

1 pound chicken tenders, cut into bite-size chunks

3/4 teaspoon salt , divided

2 tablespoons canola oil, divided

1 medium onion, chopped

3 cloves garlic, minced

1 small fresh chile, seeded and minced

1 tablespoon minced fresh ginger

1 1/2 bunches asparagus , (about 1 1/2 pounds), woody ends trimmed, cut into 1-inch pieces

1/2 cup "lite" coconut milk, (see tip)

1/2 cup chopped fresh cilantro
Preparations:
Toast cumin and fennel seeds in a small dry skillet over medium heat until fragrant and beginning to brown, about 2 minutes. Finely grind in a spice grinder (such as a clean coffee grinder) or with a mortar and pestle.
Toss chicken with 1 1/2 teaspoons of the spice mixture and 1/4 teaspoon salt in a bowl. Heat 1 tablespoon oil in a large nonstick skillet over medium-high heat. Add the chicken and cook, stirring frequently, until browned, 3 to 4 minutes. Remove to a plate.
Reduce heat to medium and add the remaining 1 tablespoon oil, onion, garlic, chile and ginger; cook, stirring, until softened, 2 to 3 minutes. Add asparagus, sprinkle with the remaining spice mixture and cook, stirring, for 2 minutes. Stir in coconut milk and the remaining 1/2 teaspoon salt and simmer for 2 minutes more. Return the chicken and any accumulated juice to the pan and cook until the chicken is just cooked through and the asparagus is tender-crisp, about 2 minutes more. Serve sprinkled with cilantro.
Nutrition:
Per serving Calories: 249; Carbohydrates: 9g; Fat: 12g; Saturated Fat: 3g; Monounsaturated Fat: 6g; Protein: 26g; Cholesterol: 63mg; Dietary Fiber: 3g; Sodium: 514mg.