Loaded Twice-Baked Potatoes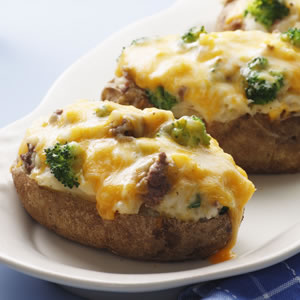 A few modifications make this recipe both healthy and hearty.
---
Servings: 4 servings
Preparation time: 30 minutes
Total time: 40 minutes
Potatoes are one of the great comfort foods, especially when stuffed with a satisfying mixture of lean ground beef and broccoli florets plus reduced-fat sour cream and cheddar cheese. Add a tossed salad and you have a healthy and hearty meal that will leave you feeling good.
Ingredients:
4 medium russet potatoes

8 ounces 90%-lean ground beef, (see variation)

1 cup broccoli florets, finely chopped

1 cup water

1 cup shredded reduced-fat cheddar cheese, divided

1/2 cup reduced-fat sour cream

1/2 teaspoon salt

1/4 teaspoon freshly ground pepper

3 scallions, sliced
Preparations:
Pierce potatoes all over with a fork. Place in the microwave and cook on medium, turning once or twice, until the potatoes are soft, about 20 minutes.

Meanwhile, brown meat in a large skillet over medium-high heat, stirring often, about 3 minutes. Transfer to a large bowl. Increase heat to high, add broccoli and water to the pan, cover, and cook until tender, 4 to 5 minutes. Drain the broccoli; add to the meat.

Carefully cut off the top third of the cooked potatoes; reserve the tops for another use. Scoop out the insides into a medium bowl. Place the potato shells in a small baking dish. Add 1/2 cup cheddar, sour cream, salt and pepper to the potato insides and mash with a fork or potato masher. Add scallions and the potato mixture to the broccoli and meat; stir to combine.

Evenly divide the potato mixture among the potato shells and top with the remaining 1/2 cup cheese. Microwave on high until the filling is hot and the cheese is melted, 2 to 4 minutes.
Nutrition:
Calories: 274; Carbohydrates: 24g; Fat: 10g; Saturated Fat: 5g; Monounsaturated Fat: 4g; Protein: 22g; Cholesterol: 52mg; Dietary Fiber: 2g; Sodium: 514mg.
Tips & Notes:
Vegetarian variation: Replace the ground beef with a soy-based substitute or omit the beef altogether and increase the broccoli to 1 1/2 cups and the cheese to 1 1/4 cups.