Minestrone with Endive & Pepperoni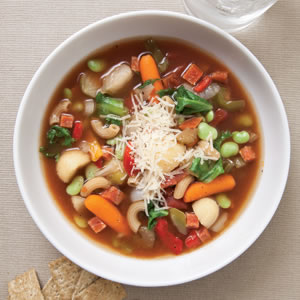 Considering that this minestrone soup incorporates mostly frozen vegetables, it is remarkably savory and aromatic. Look for frozen soup or stew vegetables with potatoes, carrots, celery and onion in the mix to give the soup the best flavor. Although pepperoni isn't traditionally part of minestrone soup, you'll find it's a great shortcut to add spicy, complex flavor.
---
Servings: 6 servings, about 1 1/2 cups each
Preparation time: 30 minutes
Total time: 30 minutes
Ingredients:
Ingredients:
1 tablespoon extra-virgin olive oil
1/2 cup chopped fresh or frozen (thawed) bell peppers, any color
5 cups reduced-sodium beef broth
1 1/2 teaspoons dried oregano
1 teaspoon dried thyme
2/3 cup whole-wheat elbow noodles or other small pasta
1 pound frozen mixed soup (or stew) vegetables (including potatoes, carrots, celery, onion), thawed, chopped
1 cup frozen baby lima beans, thawed
1 15-ounce can diced tomatoes with garlic and onion
1/2 cup diced pepperoni
3 cups lightly packed, coarsely chopped curly endive or chard, tough stems removed
Freshly ground pepper to taste
Freshly grated Parmesan cheese for garnish
Preparations:
Heat oil in a large saucepan or Dutch oven over medium-high heat. Add bell peppers and cook, stirring for three minutes. Add broth, oregano and thyme; bring to a rolling boil over high heat. Add pasta and cook for three minutes less than the package directions.
Add mixed soup (or stew) vegetables and lima beans. Bring to a boil over medium-high heat; boil until the vegetables are almost tender, about three minutes. Stir in tomatoes, pepperoni and endive (or chard); return to a boil. Adjust the heat and simmer until the endive (or chard) is just tender, about five minutes. Season with pepper and garnish with Parmesan, if desired.
Nutrition:
Per serving Calories: 213; Carbohydrates: 28g; Fat: 7g; Saturated Fat: 2g; Monounsaturated Fat: 3g; Protein: 9g; Cholesterol: 14mg; Dietary Fiber: 5g; Sodium: 721mg;