Mini Chile Relleno Casseroles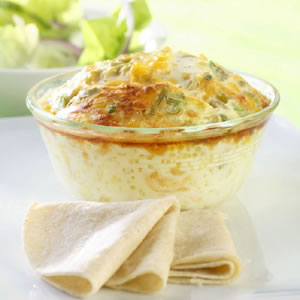 Everyone gets an individual portion with this vegetarian, Tex-Mex mini casserole. A normal-size casserole like this would take close to an hour to bake — these are ready in half the time.
---
Servings: 4 servings, 10 oz. each
Preparation time: 10 minutes
Total time: 35 – 45 minutes
Ingredients:
2 4-ounce cans diced green chiles, drained and patted dry
3/4 cup frozen corn, thawed and patted dry
4 scallions, thinly sliced
1 cup shredded reduced-fat cheddar cheese
1 1/2 cups nonfat milk
6 large egg whites
4 large eggs
1/4 teaspoon salt
Preparations:
Preheat oven to 400°F. Coat four 10-ounce heatproof ramekins with cooking spray and place on a baking sheet.
Equally divide green chiles, corn and scallions among the ramekins. Top each with cheese. Whisk milk, egg whites, eggs and salt in a medium bowl until combined. Divide the egg mixture evenly among the ramekins.
Bake the mini casseroles until the tops begin to brown and the eggs are set, about 35 minutes.
Nutrition:
Per serving
Calories: 213; Carbohydrates: 14g; Fat: 7g; Saturated Fat: 3g; Monounsaturated Fat: 3g; Protein: 23g; Cholesterol: 219mg; Dietary Fiber: 2g; Sodium: 725mg