Polenta & Vegetable Bake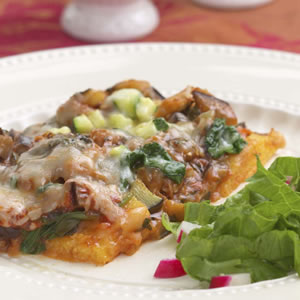 This healthful and comforting vegetarian casserole is perfect on a cool night or any time of year when you want to remember clear brisk October evenings. Make It a Meal: Enjoy with a glass of Zinfandel and for dessert, biscotti dipped in a fresh-brewed cup of coffee.
Servings: 8 servings
Preparation time: 35 minutes
Total time: 40 minutes

Ingredients
2 tablespoons extra-virgin olive oil
1 medium eggplant , diced
1 small zucchini , finely diced
1/2 teaspoon salt
1/2 teaspoon freshly ground pepper
1/2 cup water
10 ounces baby spinach
1 1/2 cups prepared marinara sauce , preferably lower-sodium
1/2 cup chopped fresh basil
14 ounces prepared polenta , sliced lengthwise into 6 thin slices
1 1/2 cups shredded part-skim mozzarella , divided
Preparation
Preheat oven to 450 degree F. Coat a 9-by-13-inch baking dish with cooking spray.
Heat oil in a large nonstick skillet over medium-high heat. Add eggplant, zucchini, salt and pepper and cook, stirring occasionally, until the vegetables are tender and just beginning to brown, 4 to 6 minutes. Add water and spinach; cover and cook until wilted, stirring once, about 3 minutes. Stir marinara sauce into the vegetables and heat through, 1 to 2 minutes. Remove from the heat and stir in basil.
Place polenta slices in a single layer in the prepared baking dish, trimming to fit if necessary. Sprinkle with 3/4 cup cheese, top with the eggplant mixture and sprinkle with the remaining 3/4 cup cheese. Bake until bubbling and the cheese has just melted, 12 to 15 minutes. Let stand for about 5 minutes before serving.
Nutrition
Per serving: Calories: 216; Carbohydrates: 27g; Fat: 8g; Saturated Fat: 3g; Fat: 8g; Monounsaturated Fat: 4g; Protein: 9g; Cholesterol: 14mg; Dietary Fiber: 6g; Sodium: 670mg;