Pork Chops au Poivre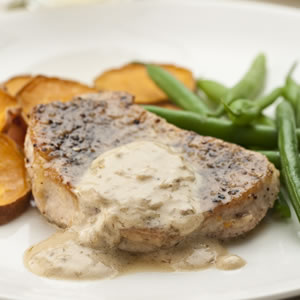 Turn your dining room into a French bistro when you dress up pepper-crusted pork chops with a rich, creamy brandy sauce. Serve with roasted sweet potato slices and green beans.
---
Servings: 4 servings
Preparation time: 20 minutes
Total time: 20 minutes
Ingredients:
1 teaspoon coarsely ground black pepper
1/2 teaspoon salt, divided
4 4-ounce boneless pork chops, 1/2 inch thick, trimmed
3 tablespoons all-purpose flour
2 tablespoons extra-virgin olive oil
1 medium shallot, minced 1/2 cup brandy
1/4 cup reduced-fat sour cream
Preparations:
Combine pepper and 1/4 teaspoon salt in a small bowl. Pat the mixture onto both sides of each pork chop. Place flour in a shallow dish; dredge each chop in the flour, shaking off any excess.
Heat oil in a large skillet over medium-high heat. Add the chops, reduce heat to medium and cook until browned and just cooked through, 2 to 3 minutes per side. Transfer to a plate and tent with foil to keep warm.
Reduce heat to medium-low. Add shallot to the pan and cook, stirring, until softened, about 1 minute. Add brandy and cook, stirring and scraping up any browned bits, until most of the liquid has evaporated, 1 to 2 minutes. Remove from the heat; stir in sour cream and the remaining 1/4 teaspoon salt. Serve the pork chops with the sauce.
Nutrition:
Per serving
Calories: 299; Carbohydrates: 3g; Fat: 15g; Saturated Fat: 4g; Monounsaturated Fat: 8g; Protein: 22g; Cholesterol: 72mg; Dietary Fiber: 0g; Sodium: 342mg