Salmon with Pepita-Lime Butter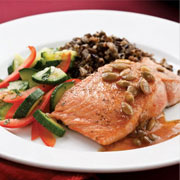 Lime juice, chili powder and pepitas give this salmon Mexican flair. Serve with wild rice and steamed vegetables.
Servings: 4 servings
Preparation time: 20 minutes
Total time: 20 minutes

Ingredients
2 tablespoons unsalted pepitas , (see Tip)
1 tablespoon butter
1/2 teaspoon freshly grated lime zest
2 tablespoons lime juice
1/4 teaspoon chili powder
1 pound salmon fillet , skinned (see Tip) and cut into 4 portions
1/2 teaspoon salt
1/4 teaspoon freshly ground pepper
Preparation
Toast pepitas (see Tip). Place in a small bowl with butter, lime zest, lime juice and chili powder.
Generously coat a large nonstick skillet with cooking spray and place over medium heat. Sprinkle salmon with salt and pepper, add to the pan and cook until browned and just cooked through in the center, 2 to 4 minutes per side. Remove the pan from the heat. Transfer the salmon to a plate. Add the butter-lime mixture to the hot pan; stir until the butter is melted. Serve the salmon topped with the sauce.
Nutrition
Per serving: Calories: 185; Carbohydrates: 2g; Fat: 9g; Saturated Fat: 3g; Monounsaturated Fat: 2g; Protein: 24g; Cholesterol: 61mg; Dietary Fiber: 0g; Sodium: 349mg;
Tips & Notes: Tip: Pepitas (hulled pumpkin seeds) can be found in the bulk-foods section of natural-foods stores or Mexican groceries. Place a salmon fillet on a clean cutting board, skin side down. Starting at the tail end, slip the blade of a long, sharp knife between the fish flesh and the skin, holding the skin down firmly with your other hand. Gently push the blade along at a 30° angle, separating the fillet from the skin without cutting through either. Place pepitas in a small dry skillet and cook over medium-low heat, stirring constantly, until fragrant and lightly browned, 2 to 4 minutes.