Sicilian Olive Chicken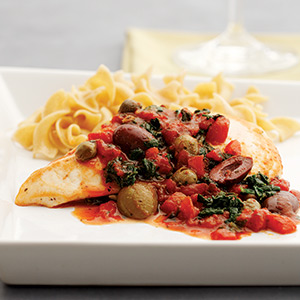 This saucy one-skillet chicken dish is full of tomatoes, spinach, olives and capers. Try Kalamata olives in place of the green Sicilians or a combination of both. Serve over whole-wheat egg noodles with a mixed green salad on the side.
---
Servings: 4 servings
Preparation time: 20 minutes
Total time: 20 minutes
Ingredients:
1 14-oz. can petite diced tomatoes with garlic and olive oil or other Italian-style seasoning
1 1/2 cups frozen chopped spinach, thawed 1/3 cup halved Sicilian or other green olives
1 tablespoon capers, rinsed
1/4 teaspoon crushed red pepper, or to taste
4 4-oz. chicken cutlets, (see tips and notes)
1/4 teaspoon freshly ground pepper
1 tablespoon extra-virgin olive oil
Preparations:
Combine tomatoes, spinach, olives, capers and crushed red pepper in a bowl. Sprinkle both sides of chicken with pepper.
Heat oil in a large skillet over medium-high heat. Cook the chicken until browned on one side, 2 to 4 minutes. Turn it over; top with the tomato mixture. Reduce heat to medium, cover and cook until cooked through, 3 to 5 minutes.
Nutrition:
Per serving: Calories: 210; Carbohydrates: 8g; Fat: 8g; Saturated Fat: 2g; Monounsaturated Fat: 5g; Protein: 26g; Cholesterol: 63mg; Dietary Fiber: 3g; Sodium: 527mg
Tips & Notes:
If you can't find chicken cutlets for this recipe, you can make your own. Purchase four 5-oz. chicken breasts. Remove the tenders and trim the fat. Place the chicken between pieces of plastic wrap. Pound chicken with a rolling pin, meat mallet or heavy skillet until flattened to about 1/2 inch thick.