Tomato-Basil Skewers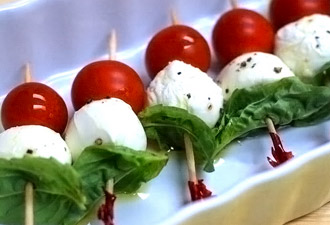 Skewering mozzarella balls and cherry tomatoes makes them easy to nosh at a party.
---
Servings: 16 pieces
Preparation time: 10 minutes
Total time: 10 minutes
Ingredients:
16 small fresh mozzarella balls
16 fresh basil leaves
16 cherry tomatoes
Extra-virgin olive oil, to drizzle
Coarse salt and freshly ground pepper, to taste
Preparations:
Thread mozzarella, basil and tomatoes on small skewers. Drizzle with oil and sprinkle with salt and pepper.
Nutrition:
Per piece: Calories: 46; Carbohydrates: 1g; Fat: 3g; Saturated Fat: 2g; Monounsaturated Fat: 0g; Protein: 3g; Cholesterol: 8mg; Dietary Fiber: 0g; Sodium: 217mg