A Medicare Surprise You Might Not Want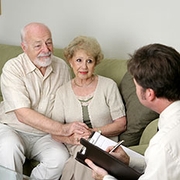 Some seniors are getting switched with little warning into Medicare Advantage, The Washington Post recently reported.
The newspaper reported that with Medicare's specific approval, a health insurance company can enroll a member of its marketplace or other commercial plan into its Medicare Advantage coverage when that individual becomes eligible for Medicare. The new practice highlights the importance of actively managing your Medicare and supplemental health insurance plans. Remember to open and read all of your mail from your insurance carriers.
Familiarize yourself with the new practice of "seamless conversion" by reading the full Post article, "Senior surprise: Getting switched with little warning into Medicare Advantage."
If you have any confusion or questions about your Medicare health insurance plan, call Medicare MarketPlace® at 1-800-639-0781 to speak to a Licensed Insurance Agent.