Are Your Part D Premiums Increasing In 2013?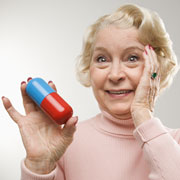 A recent report by Avalere Health, found that all of the top 10 Medicare prescription drug plans, known as Part D or PDPs, will see premium hikes next year and at least seven will see double-digit hikes.
The seven plans with the double-digit hikes were: Humana Walmart-Preferred Rx Plan (23%); First Health Part D Premier (18%); First health Part D Value Plus (17%); Cigna Medicare Rx Plan One (15%); Express Scripts Medicare-Value (13%); HealthSpring Prescription Drug Plan (12%); and Humana Enhanced (11%).
This is why shopping around for coverage is critical. Plans change every year; that includes benefits and premiums. What may have been the best/cheapest plan for you last year may no longer be the best this year. The advantage of working with Mature Health Center is we give you choice. We can help you compare multiple plans from multiple carriers to find the right one.
So if you have a Part D plan, call us and we'll review your plan and help you do a head-to-head comparison. With the Annual Election Period fast approaching (October 15th) and the market changing, now is the time to do so.
Get a quote online or Call Mature Health Center at 1-877-888-0017 to make sure you find the right plan.