Originally published December 20, 2018, last updated January 2, 2019
Consumer Advocacy Groups Criticize Government for Pushing Medicare Advantage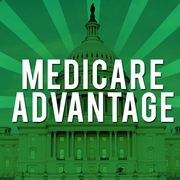 Two consumer advocacy groups are criticizing the U.S. government for pushing consumers to Medicare Advantage (MA) plans over Original Medicare.
The Medicare Rights Center and the Center for Medicare Advocacy sent a letter in November 2018 to the Centers for Medicare and Medicaid Services (CMS) expressing concerns that some of the agency's education and outreach materials about the Medicare Open Enrollment Period Oct. 15 through Dec. 7 were improperly biased towards MA.
The groups criticize CMS' suite of online tools aimed at assisting consumer decision-making, including a Compare Coverage Options quiz. The Medicare Rights Center explained on its blog: "While we appreciate CMS's efforts to develop more consumer-friendly materials, we are concerned that this tool may be doing more harm than good — by making overly-broad suggestions to enroll in MA when more nuance is required, and by failing to present individuals with the full array of Medicare coverage choices."
As journalist Philip Moeller points out, MA has its benefits but also drawbacks that people need to know about.
But the consumer groups argue that the federal agency isn't presenting information in an "objective and unbiased way."
Criticism of Medicare Materials Is Not New
The groups are not the first to criticize CMS' presentation of information to consumers, including in the 2019 "Medicare & You" handbook. U.S. Reps. Richard Neal (D-Mass.) and Frank Pallone, Jr. (D-N.J.) wrote a letter in June 2018 to CMS Administrator Seema Verma stressing the same points.
"It is not the government's role to direct Americans to one choice over another — rather, its role is to provide fair and balanced information so individuals can reach their own conclusions based on their individual circumstances," the letter states.
In April 2018, the National Council on Aging (NCOA) and the Council for Affordable Health Coverage's Clear Choices Campaign issued a scathing report about the presentation of cost information on the federal government's online Medicare Plan Finder tool.
Unbiased Sources Are Available
"These reports and criticisms highlight that consumers cannot always rely on government tools, resources or materials to get the objective information they need to make informed decisions on their Medicare coverage," said Brian Hickey, vice president of Insuractive®, which offers Medicare plan reviews and shopping assistance through Medicare Marketplace®.
Medicare MarketPlace's mission is to help customers understand their health insurance options and guide them objectively through the shopping and buying process, Hickey said.
"We don't push customers to Medicare Advantage over Original Medicare or Medicare Supplement, or vice versa," he said. "We do a complete analysis of each customer's unique needs and make recommendations based off of what is best for them."
If you need help enrolling in Medicare or reviewing your Medicare plans, call Medicare MarketPlace to speak to a Licensed Insurance Agent at 1.800.639.0781.