Originally published November 5, 2015, last updated November 5, 2015
How the Budget Deal Impacts Your 2016 Medicare Costs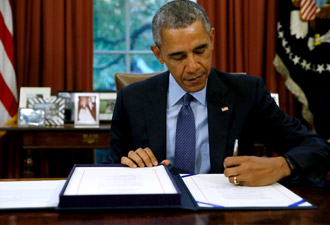 If you were among the Medicare Part B beneficiaries facing the unprecedented 52% increase in Part B premiums in 2016, you can breathe a sigh of relief that the last-minute budget deal will soften the blow.
Without the deal, 30% of the 54 million Medicare beneficiaries would have seen the premium jump from a base rate of $104.90 per month to $159.30 starting in 2016. But with the budget deal signed by President Obama Nov. 2, the Part B premium will increase for that group 14%, to $120 per month plus a $3-per-month surcharge. Part B covers doctors' visits, outpatient hospital services, durable medical equipment and some home health care.
So how do you know if you will pay more? A majority — 70% — of beneficiaries will not pay a higher Part B premium in 2016. If you have your Part B premium deducted from your Social Security benefit automatically, you are protected from the Part B premium increase.
Those who fall into the 30% who will pay a higher premium include: anyone who enrolls in Part B for the first time in 2016; enrollees who pay their Medicare Part B premium directly to Medicare (including some federal retirees); and enrollees who pay an income-related higher premium.
For Part B, most people pay the standard premium amount. But if your modified adjusted gross income in 2013 was above a certain amount, then you may pay more. Refer to the chart on this page to see where you fall currently. You can see in the chart that as income increases, so do the premiums.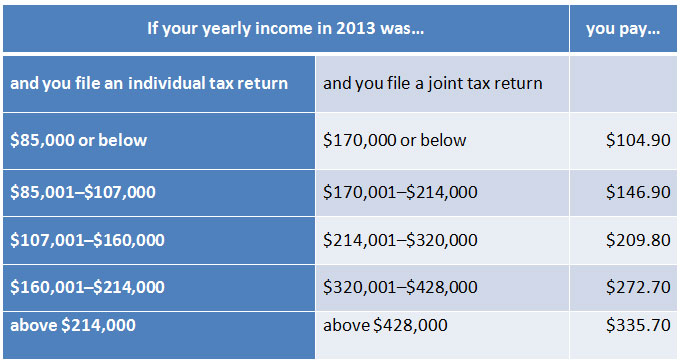 At the time of this article, the 2016 rates for those subject to the income-related extra charges had not been released, but USA Today reported that they could range from about $168 to $384, plus the surcharge. The Centers for Medicare and Medicaid Services also had not released any increases in Part A deductibles and co-pays at the time this article was published.
The 2016 Part B premium increase is the result of a provision of federal law that links premiums to Social Security benefits. Because there will be no annual cost-of-living increase in Social Security benefits in 2016, 70% of Medicare beneficiaries will see no Part B premium increase. The bipartisan budget deal negotiated last week saved the remaining 30% of beneficiaries from the steep premium increase they would have shouldered. Under that budget deal, a $7.5 billion loan from the U.S. Treasury lessens the impact on that group. According to Money magazine, beginning in 2017, all Medicare beneficiaries will have to make these monthly loan repayments. At that time, Medicare will assess how to handle future loan payments, and the total premium amounts may end up being lower, depending on how the program performs.
The budget deal also saved everybody with traditional Medicare from an increase in the deductible. It had been projected to rise from today's $147 to $223 but now is set to increase to $167. (So, instead of a $76 increase, you'll see your deductible jump $20.)
An analysis by the Kaiser Family Foundation showed that the average prescription drug plan premium will increase by 13% from 2015 to 2016, from $36.68 to $41.46 per month. Even if a number of beneficiaries switch or are reassigned to lower-premium plans, the average premium increase for 2016 is likely to be the largest since 2009. And 53 percent of drug plans will charge the maximum deductible of $360, the largest share to do so since the program began.
These projected increases can add up, putting a big dent in your budget — especially without a cost-of-living increase in your Social Security benefit next year. Use this Medicare Open Enrollment Period to review your Medicare Supplement health insurance and Part D Prescription Drug plans for potential savings. Call Medicare MarketPlace® at 1-800-639-0781 to speak to a Licensed Insurance Agent, who can conduct a free plan review for you.
Monday–Thursday: 7:30 a.m.–6 p.m. CST
Friday: 7:30 a.m.–5 p.m. CST
Saturday: 8 a.m.–3 p.m. CST
Special holiday hours:
Closed Thanksgiving (Thursday, Nov. 26)
Friday, Nov. 27: 8 a.m.–3 p.m. CST