Originally published October 25, 2018, last updated October 26, 2018
What's Up This Medicare Open Enrollment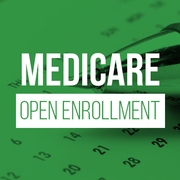 Medicare Part B premiums will rise in 2019, and if you want an alternative to Original Medicare you'll have more Medicare Advantage plans to choose from than in any year since 2009. But whether you'll actually pay more or less than the standard Part B premium is complicated because of the hold harmless rule and higher Social Security checks.
"This is an interesting open enrollment season, with more companies offering Medicare Advantage, including many with interesting incentives like Fitbits," said Brian Hickey, vice president of Insuractive®, which offers Medicare plan reviews and shopping assistance through Medicare Marketplace®. "But the premium increases and complexities of Medicare underscore the importance of reviewing your plan with someone who specializes in Medicare, so you can look for ways to possibly counteract the ever-rising health care costs but still get the coverage you need."
Medicare Part B Premiums
The standard monthly premium for Medicare Part B enrollees in 2019 will be $135.50, an increase of $1.50 from $134 in 2018, the Centers for Medicare and Medicaid Services (CMS) announced Oct. 12. Part B covers physician services, outpatient hospital services, certain home health services and durable medical equipment. Most people (99%) don't pay a monthly premium for Part A, because they already have paid Medicare taxes while working.
While the Part B increase is only 1.1%, many Americans could see their premium increase by a higher percentage because they have benefited in past years from the statutory hold harmless provision, which restricts Part B premiums from exceeding the increase in their Social Security benefits. In 2019, they will "catch up."
The hold harmless rule helps the roughly 70% of Social Security recipients who have their Part B premiums deducted automatically from their Social Security check every month, by preventing the amount of their Social Security checks from sliding backward. But at some point, those people who have been paying lower Part B premiums because of the hold harmless rule play catch-up for the temporary fix.
That was the case in 2018, when millions of Americans have had to catch up to the Medicare premiums, meaning all or part of their 2% Social Security COLA increase has been going to pay for their Medicare premiums.
In 2019, the Social Security Administration's COLA will be 2.8%. So, with the modest Medicare premiums increase, many Social Security recipients can expect to see more of that COLA increase in their checks. Yet there are still many others — those who benefitted from the hold harmless rule in the previous year — who won't see as much of that 2.8% increase in their Social Security check because now they are catching up to the higher Part B premium. As USA Today explains it, the average person who is held harmless is paying a premium of $130 in 2018, rather than $134 — so if they pay the $135.50 premium in 2019, their premium will increase 4.2%, not 1.1%.
Since 2007, a Medicare recipient's Part B monthly premium is based on his or her income. Roughly 5% of people with Part B pay more than the standard monthly premium. If your individual tax return income was greater than $85,000 or your joint tax return income was greater than $170,000, you can find your premium on the CMS website.
Medicare Part A and B Deductibles
The annual Medicare Part A inpatient hospital deductible that beneficiaries will pay when admitted to the hospital will increase $24, from $1,340 in 2018 to $1,364 in 2019.
The annual Part B deductible will increase $2, from $183 in 2018 to $185 in 2019.
Part C (Medicare Advantage)
Instead of getting health care coverage through the government-run Original Medicare, some people chose Part C, also known as Medicare Advantage, in which private companies approved by Medicare combine Part A and Part B. CMS announced in September that the average Medicare Advantage premium in 2019 will decrease from $29.81 to $28. CMS estimates that 46% of MA beneficiaries in their current plans will have a 0% premium.
The average Medicare beneficiary will have 24 Medicare Advantage plans to choose from, up from 21 in 2018, and of those 24, 20 will include prescription drug coverage (MA-PD plans), according to the Kaiser Family Foundation's analysis of the 2019 Medicare landscape. The total number of Medicare Advantage plans nationwide rose by 417 plans from 2018 to 2,734. While five insurers are exiting the Medicare Advantage market in 2019, 14 firms are entering for the first time.
"The addition of so many MA plans could drive down premiums in 2020 or result in other cost savings," Hickey of Insuractive said. "As always, we'll be monitoring this closely and providing insight to help our customers find ways to save."
Free Review and Plan Comparisons Available
Open enrollment is Oct. 15 through Dec. 7. For a free review of your current Medicare plans and to look into 2019 plans, call Medicare MarketPlace to speak to a Licensed Insurance Agent at 1.800.639.0781.
Or, fill out this form if you'd like us to contact you to review your existing coverage and compare other plans.