Originally published August 23, 2019, last updated August 23, 2019
What to Know About Cancer, Heart Attack and Stroke Insurance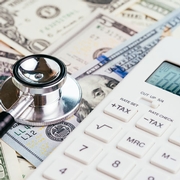 If you were diagnosed with cancer or suffered a stroke or heart attack, how would you pay the bills?
Sure, your health insurance might cover some of the medical bills, but you still have co-pays, co-insurance and other expenses your policy won't cover. And what about the other bills — the mortgage, car payment, credit card payments, cell phone and other utilities? If you're undergoing treatment or recovering, your income will be reduced, but the bills have to be paid.
Cancer and heart attack or stroke insurance pays you cash directly, unless you assign the payment to someone else. You can spend the money however you need, including:
To pay for treatments not covered by a traditional policy (such as experimental treatments)
To pay for daily living expenses
To pay for transportation expenses, such as getting to and from treatment centers or installing lift systems in homes or vehicles for scooters or wheelchairs
To replace your income or that of a loved one who is caring for you
Medical expenses from cancer, a heart attack or stroke can deplete your savings or even lead you to file for bankruptcy. The stress on you and family members can also be devastating. Policies that pay lump sums after a cancer diagnosis, heart attack or stroke can provide some protection from the financial and emotional stress of these serious medical events.
How They Work
Applying only requires a limited number of health questions. You also get a wide range of benefit amounts to choose from, usually ranging from $5,000 to $100,000. You can choose their own term, from 10 years to a lifetime. And coverage is guaranteed renewable for life or until the end of the term period. You also have the choice of adding riders for recurrence, hospital indemnity and more.
Weighing the Decision
So how do you decide whether you should get a policy to cover cancer, a heart attack or stroke?
Familiarize yourself with what your current health insurance would cover. Identify the gaps, and ask if you have enough savings to cover the gaps. Remember to consider all the things mentioned previously. People often don't think of the loss of income or the "extra" costs, such as transportation to out-of-state treatment facilities.
You'll want to consider whether the premiums you pay are worth the peace of mind such a policy might provide you. Is there a family history of these illnesses? If so, you might find this type of policy might be a good investment.
Even for those without family histories, it's important to consider that these health issues aren't rare. Heart disease, cancer and stroke are in the top five leading causes of death in the United States.
Consider the Statistics
A new cancer is diagnosed every 30 seconds in the United States. One in two men in the United States will be diagnosed with cancer at some time during his lifetime, and one in three women in the country will be diagnosed with cancer at some time during her lifetime.
Every year, about 735,000 Americans have a heart attack. Heart disease is the leading cause of death for both men and women.
Someone in the United States has a stroke every 40 seconds on average, and every four minutes, someone dies of stroke. By 2035, nearly half of the United States population will have some form of cardiovascular disease.
The costs of these health events are staggering. Cardiovascular disease and stroke accounted for 14% of total health expenditures in 2014-2015 — that's more than any major diagnostic group. According to a 2011 study, between 2015 and 2030, medical costs of coronary heart disease are projected to increase by about 100%.
In 2014, stroke and heart failure were the most expensive chronic conditions in the Medicare fee-for-service program.
Get a Quote
If you are interested in cancer, heart attack and stroke coverage, the Licensed Insurance Agents at Medicare MarketPlace® can answer your questions and give you a quote. Call 1.800.639.0781 and ask for Robin Butler, a Licensed Insurance Agent, or email her.