What You Heard About Medicare Prescription Drug Premiums Might Not Be True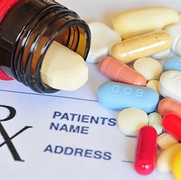 You may have heard news that Medicare Part D Prescription Drug plan premiums are dropping in 2018, but that's not the whole story. Don't assume you'll get the savings. Your premium could actually increase.
The Centers for Medicare and Medicaid Services (CMS) in early August announced that the average basic premium for a Medicare Part D Prescription Drug plan in 2018 is expected to drop $1.20 per month — from the actual average premium of $34.70 in 2017 to an estimated $33.50 per month next year. CMS bases the Part D premium projections on bids submitted by drug plans for basic drug coverage for the 2018 benefit year and calculated by the independent CMS Office of the Actuary.
Plans Vary
While a downward trend of costs is certainly good news for Medicare beneficiaries overall, your individual plan in your region could still raise the premium you pay. Part D plans vary in terms of their specific benefit design, formularies, cost-sharing amounts and utilization management tools, such as prior authorization, quantity limits or step therapy. With so many variables, it's impossible to know until the plans officially release their rates what your individual plan will charge in a premium.
"It's good to know that the average premium from all Part D carriers is decreasing slightly in the year ahead," said Brian Hickey, vice president of Medicare MarketPlace®, a team of Licensed Insurance Agents who help guide customers through Medicare plans. "Seeing that trend is encouraging, but it's important that people don't interpret the projection as a definite cost saving. There are just too many variables that determine what you'll ultimately pay in your premium, and those aren't even officially announced until fall."
Notices Sent in September
If you're in a Medicare plan, your plan will send you a "Plan Annual Notice of Change" or ANOC in September. At that time, you'll be able to see what your premium for 2018 will be if you remain in that plan. To compare your plan to other plans, however, you will have to wait until after Oct. 1, when those plans are released to the public.
The projected decrease is also good news for anyone who pays a penalty for enrolling late in Part D, Hickey said. Because the penalty is calculated based on the average national premium, the penalty will dip slightly.
If your Part D premium increases, you may be able to switch to another plan with a lower premium during Medicare's Open Enrollment Period, which is Oct. 15 through Dec. 7. But before switching it's important to understand that the plans with the lowest premiums are not always the better financial choice. For example, if you switched to a plan whose formulary doesn't include one of your prescriptions, the cost of one month's worth of that drug could exceed an entire year's worth of your monthly premiums. To learn more about comparing Part D plans for cost savings, watch this video.
How to Compare Part D Plans
So, how do you compare plans? Because Medicare MarketPlace's Licensed Insurance Agents specialize in Medicare plans, they can help you review your plan, compare plans and find the one that best suits your needs and budget. A full plan review is a free service, and there is no obligation to purchase anything. To speak to a Medicare MarketPlace Licensed Insurance Agent, call 1-800-639-0781. Or, fill out this form if you'd like us to contact you to review your existing coverage and compare other plans.
"Filling out the form is kind of like setting an automatic reminder to review your plan, because we'll call you when plan premiums are announced," Hickey said. "Medicare plans can be overwhelming and confusing, so it's good to work with people who understand them. Our agents can explain plans' differences or similarities in a way that will help you make the best decision for your situation and your budget."