Originally published October 28, 2019, last updated October 29, 2019
Your 2020 Medicare Open Enrollment Roundup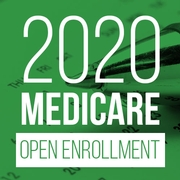 Medicare's 2020 Annual Election Period (AEP) is in full swing, with everything from pest control as a new Medicare Advantage benefit to higher out-of-pocket Part D Prescription Drug costs.
AEP, which runs Oct. 15 through Dec. 7, is when you can make changes to your Medicare Advantage (MA) or Medicare Part D Prescription Drug coverage for the coming year. To help you stay up-to-date on this open enrollment season's news, Mature Health Center® turned to Brian Hickey, vice president of Insuractive®, which offers Medicare plan reviews and shopping assistance through Medicare Marketplace®.
"We've seen some interesting MA benefits being introduced this year, and beneficiaries continue to express concern about rising health care costs," Hickey said. "This is when you can take control of some of those costs, by reviewing your Medicare and prescription drug coverage for changes that could cost you more. And an annual review also is a way to ensure you have the benefits you need for the coming year."
Medicare Advantage Plans Boast New Benefits
The federal government is giving Medicare Advantage (MA) plans in 2020 more leeway to pay for things they normally would never cover. In the past many have offered extra benefits for dental, vision and hearing, but with the greater permission, many are broadening benefits in surprising ways. MA benefits being advertised for 2020 include things like rides to the grocery store, a new air conditioner, home and bath safety devices, sessions with a nutritionist, emergency response devices, in-home pest control, telehealth and short-term meals, and services for chronic illnesses.
"Telemedicine is becoming a very popular benefit in the senior market," Hickey said. "Telemedicine allows a beneficiary to connect remotely with doctors and other care providers, providing greater plan flexibility and increased access to care."
For 2020, more than half of all plans will offer additional telehealth benefits, reaching up to about 13.7 million Medicare Advantage enrollees, according to the Centers for Medicare and Medicaid Services (CMS).
The push for these extended benefits comes from insurers and the government in an effort to keep people healthy instead of waiting to cover their claims once they become ill. Insurers are not required to offer these extra benefits. And if they do offer new expanded benefits, they can be offered at a plan's discretion and only to people with certain health conditions, David Lipschutz, senior policy attorney at the Center for Medicare Advocacy told CBS News.
"That can significantly confuse the landscape because the expanded plans can be marketed to everyone, but not everyone will qualify for the new benefits," Lipschutz said.
Rise in Out-of-Pocket Drug Costs Before Catastrophic Coverage
Medicare Part D Prescription Drug coverage has four phases — the deductible phase (in which you pay the full drug cost until you hit your deductible), the initial coverage phase (in which cost-sharing begins), the coverage gap or "donut hole" (in which you pay more than the insurance plan pays until you hit a certain amount), and the catastrophic phase (in which your costs drop dramatically after you've paid a certain amount). You hit the donut hole when the medication costs shared by you and your plan have reached an amount set by the government. In 2019, the amount you have to spend in out-of-pocket expenses to reach the catastrophic phase is $5,100.
For 2020, the out-of-pocket spending threshold will increase by $1,250, to $6,350.
The increase is due to the expiration of the Affordable Care Act (ACA) provision that constrained the growth in out-of-pocket costs for Part D enrollees by slowing the growth rate in the catastrophic threshold between 2014 and 2019; in 2020 and beyond, the threshold will revert to the level that it would have been using the pre-ACA growth rate calculation.
Part D enrollees also will face higher out-of-pocket costs in 2020 for the deductible and in the initial coverage phase. The standard deductible will increase $20, from $415 in 2019 to $435 in 2020. The initial coverage limit will increase $200, from $3,820 in 2019 to $4,020 in 2020.
More Enroll in 4-Star Plans
CMS publishes star ratings for Medicare Part C (Medicare Advantage) and Part D Prescription Drug plans each year to measure the quality of health and drug services received by beneficiaries enrolled in the plans. The plans are rated on a scale from 1 to 5, with 5 being the highest and representing excellent performance.
The number of Part D Prescription Drug plan members who will be in plans with four stars or more in 2020 rose to 27.6%, up from 3.5% last year, according to data released by the CMS. The percentage of four-star or greater Medicare Advantage plans with prescription drug coverage grew to 81.1% of members in 2020, up from 75.3% in 2019.
Plans F & C Go Away for New Enrollees
If you're already in a Plan C or Plan F, don't worry — you can remain in your plans. But people who turn 65 after Jan. 1, 2020, will not be able to buy Medicare Supplement policies that cover the Medicare Part B (hospital insurance) annual deductible, which was $185 in 2019.
Plan C and Plan F are being discontinued in an effort to reduce government spending. Anyone who is currently covered by a Plan F or Plan C, or anyone who purchases one of those plans between now and Jan. 1, 2020, will be able to keep their plan.
Changes to Medicare.gov
The federal government's Medicare website, Medicare.gov, got a major overhaul, but not without problems. While many consumers and senior advocates applauded the long-awaited overhaul, the initial rollout revealed that some popular features were removed and some information omitted.
Following a national outcry about some of the changes, CMS restored some features, but glitches remain. Hickey of Insuractive said that even with the redesign, the government website is not consumers' best option to review their plans. Medicare MarketPlace was actually created because of the tool's inadequacies and the confusing nature of Medicare.
"Using and interpreting the Plan Finder can still be confusing," Hickey said. "We recommend that beneficiaries call the Licensed Insurance Agents at Medicare MarketPlace for a more thorough plan comparison and so someone who specializes in Medicare plans can help explain the different plans. Our mission is to help customers understand their health insurance options and guide them through the shopping and buying process."
For a free, no-obligation Medicare plan review, call 1.800.639.0781 to speak with a Licensed Insurance Agent. Or visit www.medicaremarketplace.com.