Originally published October 25, 2018, last updated October 26, 2018
3 Fresh Ways to Prevent or Manage Diabetes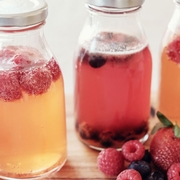 You know that maintaining a healthy weight and limiting sugar and carbohydrates will help you prevent or manage diabetes. So for National Diabetes Month this November, we won't repeat what you know you should do. Instead, we've curated three fresh ways that might make management or prevention easier.
1. Get an app
Quit lugging a notebook and pencil around to log your information. There's an app for that. In fact, there are lots. Many diabetes devices, such as glucose meters or insulin pumps, already have apps that sync the device with your phone. Other apps make the tedious task of information tracking more fun. The app named mySugr lets you log your blood sugar and carbs and estimates your HbA1c. Glucose Buddy tracks glucose, medications and meals and includes an extensive food database that lets you scan bar codes to access nutritional information. Others focus on education about nutrition by assigning a grade to different foods you enter or guide your weight management goals. Whatever your needs and preferences, there are many choices.
2. Try a probiotic
Are you reading to go pro? Probiotics, live microorganisms that you can consume through supplements or fermented foods, promote a healthy balance of gut bacteria. More and more studies link these good bacteria to multiple health benefits, including three for diabetes: the good guys can help reduce blood sugar levels, insulin levels and glucose resistance. According to recent studies, poor gut health contributes to decreased insulin sensitivity through a variety of mechanisms that can contribute to weight gain. To get more probiotics in your diet, check out this article by the Diabetes Council to learn what foods to consume and what to look for in supplements.
3. Get inspired and plan
From the nutrition experts at the American Diabetes Association, the Diabetes Food Hub™ offers featured recipes that you can save to your profile, a meal planner, grocery list and health eating tips. Managing diabetes or preventing it looks more delicious when you see all the healthy options on this website.
Turkey Day is Lurking
With Thanksgiving approaching, are you already worried about controlling your diet with so many challenges? The key is planning ahead and still being mindful of your diabetes or risk for diabetes. Check out these eight tips for handling turkey day with diabetes.