8 Tips to Tackle Turkey Day When You Have Diabetes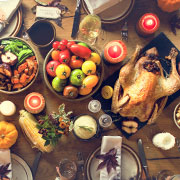 If you have diabetes, the Thanksgiving table can seem like a minefield instead of a masterpiece. But with a little extra planning and precaution, you can still relax and enjoy the meal. And because November is American Diabetes Month, turkey-day strategies are especially fitting.
Use fresh cranberries to make cranberry sauce. Canned cranberry sauce is high in sugar.
Choose salads with non-starchy vegetables such as celery, kale, peppers, Brussels sprouts, and radishes, and avoid those with meats, eggs and croutons.
Keep the Thanksgiving meal as close to your usual meal time as possible to keep your blood sugar steady, according to the Centers for Disease Control and Prevention (CDC).
If you really want that piece of pumpkin pie or a different dessert, cut back on other carbs, such as bread, potatoes or stuffing, the CDC also suggests.
Plan it out, and rank it! Scan the table and rank each food on a scale of 1 to 10, with 10 being your favorite. Help yourself to the foods ranking at No. 9 and No. 10. OnTrackDiabetes.com suggests this strategy as a way to prevent impulse eating or wasting valuable calories or carbohydrates on foods you don't absolutely love.
For the main dish — turkey — Cooking Light magazine suggests keeping the seasoning simple and avoiding brown sugar or maple glazes. Other diabetes experts suggest eating only white meat and avoiding skin, to manage your overall calorie load. But turkey is a great source of lean protein and plays a big part in keeping blood sugar steady and you feeling satiated.
Check your blood sugar levels often. This is an important step for anyone with diabetes, but especially on a day when you may be indulging more than normal. If you're on insulin, this also can help you better adjust your insulin. But don't think that it's a free pass to eat as much as you want. Keep portions in check.
Go for a walk. Exercise has many benefits, but especially for people with diabetes. Exercise has been called "free insulin" by some, because it improves blood glucose control by making the body more sensitive to insulin. To help you remember this, imagine insulin as the key that unlocks the door allowing glucose in and exercise as the grease that makes the door hinge and keyhole ready to open and open more easily.
For more information on diabetes, visit the American Diabetes Association's website, diabetes.org.