Originally published June 26, 2019, last updated June 27, 2019
New Study Sheds Light on Older Adult Falls: Most Happen in Well-Lit Rooms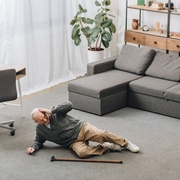 A new study of falls by older adults reveals that four out of five falls happened in well-lit areas, suggesting that the problem isn't seniors stumbling in the dark.
It instead seems to indicate that they may be trying to do too much at once, said lead study author Dr. Antoine Piau of Oregon Health & Science University in Portland and the University Hospital of Toulouse in France.
"Falls at home may also be common because people in their everyday activities are doing more than one thing at a time without being attentive to their environment such as walking down stairs while carrying a box or phone," Piau said by email to Reuters.
Study Examined 371 Falls
Published in the Journals of Gerontology: Series A, the research aimed to provide previously unavailable details about the circumstances surrounding fall events and their consequences. Researchers collected data on 371 falls during four years from 120 clinically characterized fallers — 74% women, mean age 83.3 years — who self-reported falls via weekly online surveys.
The study revealed:
Most of the 371 falls occurred indoors (62%) and in well-lit areas (81%).
Bedrooms were the most common places for in-home falls.
Only seven falls, or 2% of the total, occurred on stairs.
Commonly observed precipitating factors included loss of balance, slipping or tripping.
Almost one-third (31%) of falls were defined as injurious whereas 22% resulted in a change in the walking ability of which 26% led to the use of a cane or walker.
Among falls that did not give rise to any formal health care intervention, 8% resulted in a modification of walking ability.
Nearly 90% of falls happened because people lost their balance.
Nearly two-thirds involved a slip or trip as a precipitating factor.
Of the 371 falls, 119 led to injury or a checkup with a health-care provider. One in five of the falls didn't result in treatment or have any impact walking, while 19 falls, or 8%, did result in reduced walking ability.
Falls Are Big Reason Seniors Return to Hospitals
A separate study revealed that when elderly patients are discharged, one of the major reasons they return is because they've fallen. The study, published in the JAMA Network Open, analyzed data on more than 8.3 million patients age 65 and older who were hospitalized in 2013 and 2014. About 14% were readmitted within 30 days of being discharged.
Principal investigator Geoffrey Hoffman of the University of Michigan School of Nursing said the prevalence of falls following hospital stays suggests there is a gap in the quality of care provided before and after patients leave the hospital.